---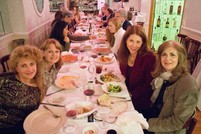 The dinner for sarcoma advocates was held the eve of the CTOS conference, Wednesday Oct. 30th.
These meetings began in Fort Lauderdale, Florida in 2005 when directors of all the major sarcoma foundations gathered to brainstorm how we could all help each other and have a united voice for the sarcoma patient community.
At this year's dinner Dr.Larry Baker from the University of Michigan, discussed his plans for a new sarcoma survivor clinic and asked the advocates for support and help.
Sarcoma Foundation of America (SFO) announced their 2020 Project: A tissue bank for all types of sarcomas. They will begin their efforts with collecting leiomyosarcoma samples.
Other topics discussed were outreach to find newly diagnosed sarcoma patients, online support groups, the LMS Retreat success, collaborate projects and legislative updates.

(photo: Sarah Robinson, Sharon Anderson, Deborah Gates, Annie Achee)
---
2014 LMS Retreat, LIVE IT UP! will be

Oct. 30th - Nov. 1st in San Francisco
---
Welcome! Debra Simmons Joins LMSdr Science Advisory Board
Debra Simons is a Registered Nurse who earned a PhD in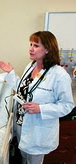 Leadership. She is a Professor of Nursing, a Thesis Chair, and teaches in undergraduate and graduate nursing programs. Debra's research interests align with the Institute of Medicine's (IOM) patient safety mandate for improved inter-professional communication. A Principle Investigator, she is working on several research projects, both quantitative and qualitative measuring self-efficacy, contrasting and combining results from studies related to LMS, as well as the lived experiences of cancer survivorship. Debra is a 7 yr. LMS survivor.
---
Hurry and order the 3 DVDs of guest speakers for
*** After Dec. 1st, price will be $30 ***
---
20 Year Thriver: Joan Wachter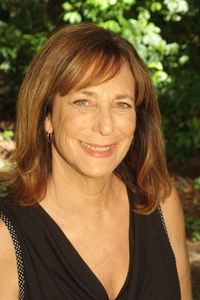 Joan was diagnosed in 1993 with ULMS. She was told there were only 56 documented cases of ULMS, and there was nothing to read. She had adjuvant chemo and radiation. Joan is one of the lucky 50%, for whom ULMS never returns after stage I.
Like many long term survivors, Joan has had permanent secondary side effects from her treatment 20 years ago. She's had many hospitalizations and a surgery for intestinal blockages.
She also still has fears. "Every bump I get biopsied right away. I don't mess around!"
Since her diagnosis, Joan has happily remarried, had a grandchild and a successful career as a realtor in San Mateo, California. She loves going to Tahoe and Hawaii.
---
Phase II trial of panobinostat was poorly tolerated and showed limited response for advanced soft tissue sarcoma. Read more here